Ah, yoga. Some mornings I just can't wait to get on my mat. I move myself into downward dog, stretching my arms out, pushing my legs into the earth and letting my head release down and... Oh My God! My yoga mat stinks!
I am a somewhat eco-friendly, green kind of girl and I've been using the same yoga mat for 10 years now. It's actually not a yoga mat at all, but a Pilates mat from Windsor Pilates. It's made of blue PVC and even after all of these years... it stinks! That lingering chemical odor just wont go away and I've decided it's time for a new yoga mat.
I've been researching online for a few days now and it hasn't been very encouraging. Most of the inexpensive mats are still made of PVC. The eco-friendly mats are either not very durable or they are made of of rubber, which apparently
really
stinks.
After some close comparison and reading a few articles I have a winner. I will be placing my order for the Aurorae Northern Lights yoga mat in Purple (my oldest daughters favorite color).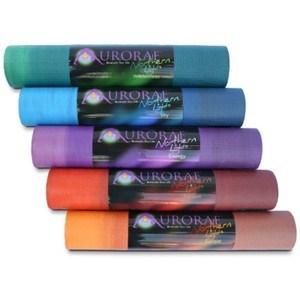 Not only is this mat biodegradable and odor-free (according to all the reviews I read), but it's also a little longer than most standard mats- something that I really like since I frequently find myself stepping off of my mat. Considering it is the highest rated yoga mat on Amazon, and has a 4 1/2 star average, I know I wont be dissapointed. I've included a link to it below if you too have a stinky yoga mat and are looking to upgrade. Namaste!