We are super-excited to introduce a wonderful artist to the Finding My Way OM family and also to host our very first giveaway! (Keep reading below for the 15% off discount and the giveaway contest).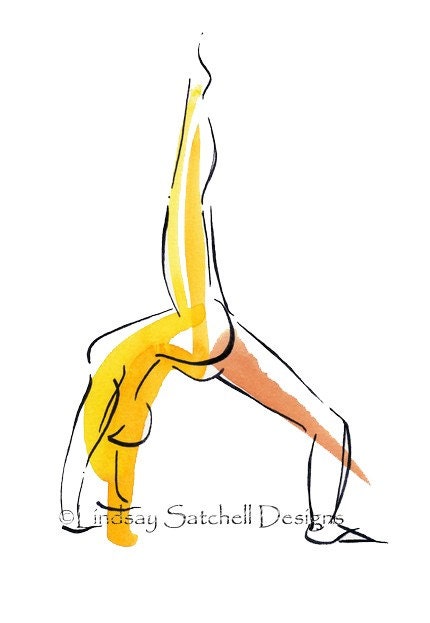 Lindsay Satchell combines her artistic talent with her love of yoga to bring a unique style to her work.
Her Etsy store (
www.lindsaysatchell.etsy.com
) showcases her watercolor and ink pieces. Lindsay describes her watercolor process: "I let the watercolor flow, blend and move as it wants... then shape the body with ink lines. For my process, it's important to me to let the materials show, not hiding or covering any natural characteristics or imperfections."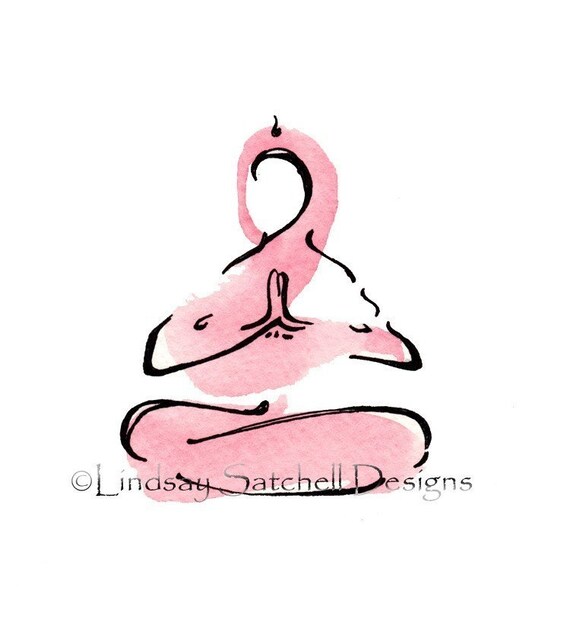 Lindsay is also trained in sculpture. Her sculpture work is is done in metal and wood and she loves to create jewelry and small works of art.
If you're looking for any type of custom commissioned work, please contact Lindsay. She has worked with yoga studios, created designs for meditation/yoga workshop fliers, original pilates paintings, original artwork for cards, large-scale paintings for a fitness center and even small works for tattoos! She also licenses her existing work for those who want an affordable logo or brand identity.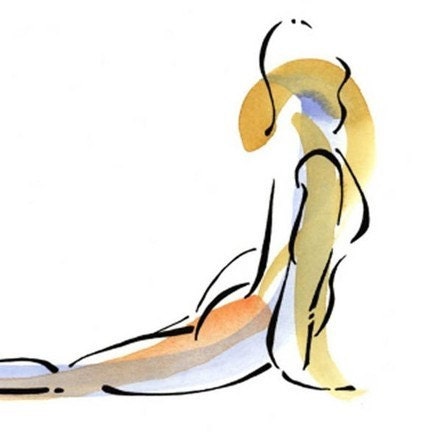 You can find Lindsay Satchell at:
Her blog: (
www.lindsaykristine.blogspot.com
),
Her facebook page: (
www.facebook.com/lindsaysatchelldesigns
)
Her twitter account: (
twitter.com/#!/LindsaySatchell
)
Lindsay is generously offering our readers 15% off any print in her shop. Please visit Lindsay's Etsy store today and enter "FindingMyWayOM"at checkout to receive this discount.
Now for the GIVEAWAY:
Lindsay has also generously donated an 8 1/2" x 11" signed print, which is a reproduction of her original watercolor painting of "Easy Pose" (Sukhasana) as well as a protective packet filled with 4 notecards showing her most popular yoga prints. These images are printed in gorgeous color on smooth, sturdy cardstock. Cards are 4" x 5.5"
PRIZE: BOTH THE PRINT AND THE PACKET OF CARDS TO ONE WINNER!
Mandatory Entry Requirements For All Giveaways:
Simply do the following
:

· Follow me on Google Friend Connect (located on the right sidebar)

· Leave a comment on the Giveaway post with your primary email address and name (so I can contact you if you win)

You must complete the mandatory entry criteria or your entry will be disqualified and deemed null and void. Mandatory entry requirements will equal 1 contest(s)/giveaway(s) entry.
If you are already following us by GFC then just leave a comment with your email and let me know that.
Bonus/Extra Contest/Giveaway Entry Opportunities (each worth 1 entry):


If you would like to earn extra entries into the contest/giveaway: please make sure to let me know that you have earned extra entries by submitting a separate comment with your email address, name and contact information for each extra entry you earn)

Subscribe by email to FindingMyWayOM.com (located on the right sidebar)
Follow me on Twitter: http://twitter.com/#!/FindingMyWayOM

Like me on Facebook: https://www.facebook.com/pages/Finding-My-Way-OM

Place a text link to FindingMyWayOM.com on your blog

Post this giveaway on your blog with a link back to this giveaway post (comment with link to your post)

Update your Facebook status to link back to this giveaway (comment with a link to your Facebook page)

WINNING, Duh.
This contest will end at 11:59pm on Saturday 12/3/11. Winner will be chosen at random by random.org or by 3rd party of FindingMyWayOm.com's choosing.
Rules and Legal Mumbo Jumbo

Contest(s)/Giveaway(s) open to Continental United States Residences Only unless otherwise specified in the contest(s)/giveaway(s) post.
Contest(s)/Giveaway(s) ship to Continental United States Addresses Only (No P.O. Boxes) unless otherwise specified in the giveaway post.
Entrant(s) Must be 18 years of age or older to enter.
No email address, name or contact information, equals no valid entry
Winners will be chosen randomly - Random.org or other 3rd Party.
Contest(s)/Giveaway(s) end at time specified in the giveaway post and all entries submitted after the contest/giveaway deadline will be null and void.
Winner(s) will be notified as soon as a winner is determined and will be emailed. As a result, the notified winner must respond within 48 hours of an email being sent by findingmywayom@verizon.net
All contest(s)/giveaway(s) are provided at the discretion of the 3rd party product/service provider(s) and may be discontinued at any time with no product or service being given away.
FindingMyWayOM.com is not responsible for any altering of these Rules and Conditions or giveaway(s) on or by other blogs and or websites.
No purchase is necessary.