Beth Shaw is a yoga mogul. When I think of large-scale success in the booming business of yoga, Beth Shaw is one of the first names that comes to mind.
How much of a booming business is yoga? According to the Yoga Business Academy, more than $6 billion dollars were spent on yoga products in 2010 and 1 in 10 people now practice yoga.
How much of a yoga mogul is Beth Shaw? As the owner of the largest yoga school in the world, Yoga Fit, and the training of over 70,000 fitness experts under her belt, you might agree that she's at the top of the yoga totem-pole.
Yoga Fit was founded by Ms. Shaw in 1994 and it encompasses all things yoga: teacher training, conferences, books, apparel, DVD's, etc... If it has to do with the world of yoga, you'll find the Yoga Fit logo on it somewhere.
I was lucky enough to recently interview Beth Shaw. Here's what she had to say:
How did you find your way into your first yoga class?


In the early 90's I went to Renee Taylor's yoga class in Torrance, C.A. Ms. Taylor was in her nineties at that time. She had been one of the early pioneers of yoga and had a few books and tapes on yoga. I was a runner at the time and just wanted to experience yoga.
Did you have an immediate vision of what you wanted Yogafit to be, or was it a slow evolution?
It was a slow evolution that continues to unfold.
In the New Year, I believe that goal-setting is as important in our personal lives as it is in our business lives. How do you turn your goals and visions for Yogafit into a reality? Can you tell me a little bit about about your own goal setting methods?


Goals are a funny thing. We need to put them out to the universe in a few ways - writing, verbalizing and holding the intention. Goals become reality and visions become reality when we are aware of them and keep them close to our hearts and in our line of vision. We can also create a vision board and journal.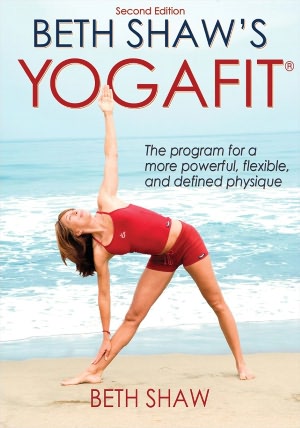 Running a yoga-empire, must be exhausting. I'm sure that your yoga practice plays a large part in keeping you grounded. How else does Beth Shaw stay energized, relaxed and focused?
I work out or do yoga daily. I meditate and practice mindfulness. I try and carve out a fair amount of time in solitude. I have a lot of my plate so staying balanced is key to long term success. I have to move every day.
What is the next step for you and for Yogafit? Is your vision complete, or is there more?
There will always be a next step. My next step is to create a retreat center for people to go to and immerse in yoga and wellness. Also to add an instructor network program for instructors to get updated teaching materials and support.I have also started a non profit called Jewel of the Lotus Foundation, to create positive changes like spaying & neutering dogs and cats.
Finding My Way OM is starting a "Girls Club". This will be a wall-of-fame on the blog for inspirational, real, strong women who are a great example of what a girl can do when she follows her heart. We would definitely love to add you to the wall. Is there any message you would like to give to all the girls who are inspired by what you do?


Thank you. My message is a simple one: If you believe in yourself and stay focused and postive anyone can achieve their desires. The biggest obstacle to success is often our own self doubt. When I first started I did not believe I could do it. Now, I believe that anything is possible. When we believe in ourselves we can reach the sky. Also, it is important to empower other women along the way. I barely graduated college and now I am a multimillionaire. Anything is possible. This I know to be true.
For more information on Beth Shaw, please go to: